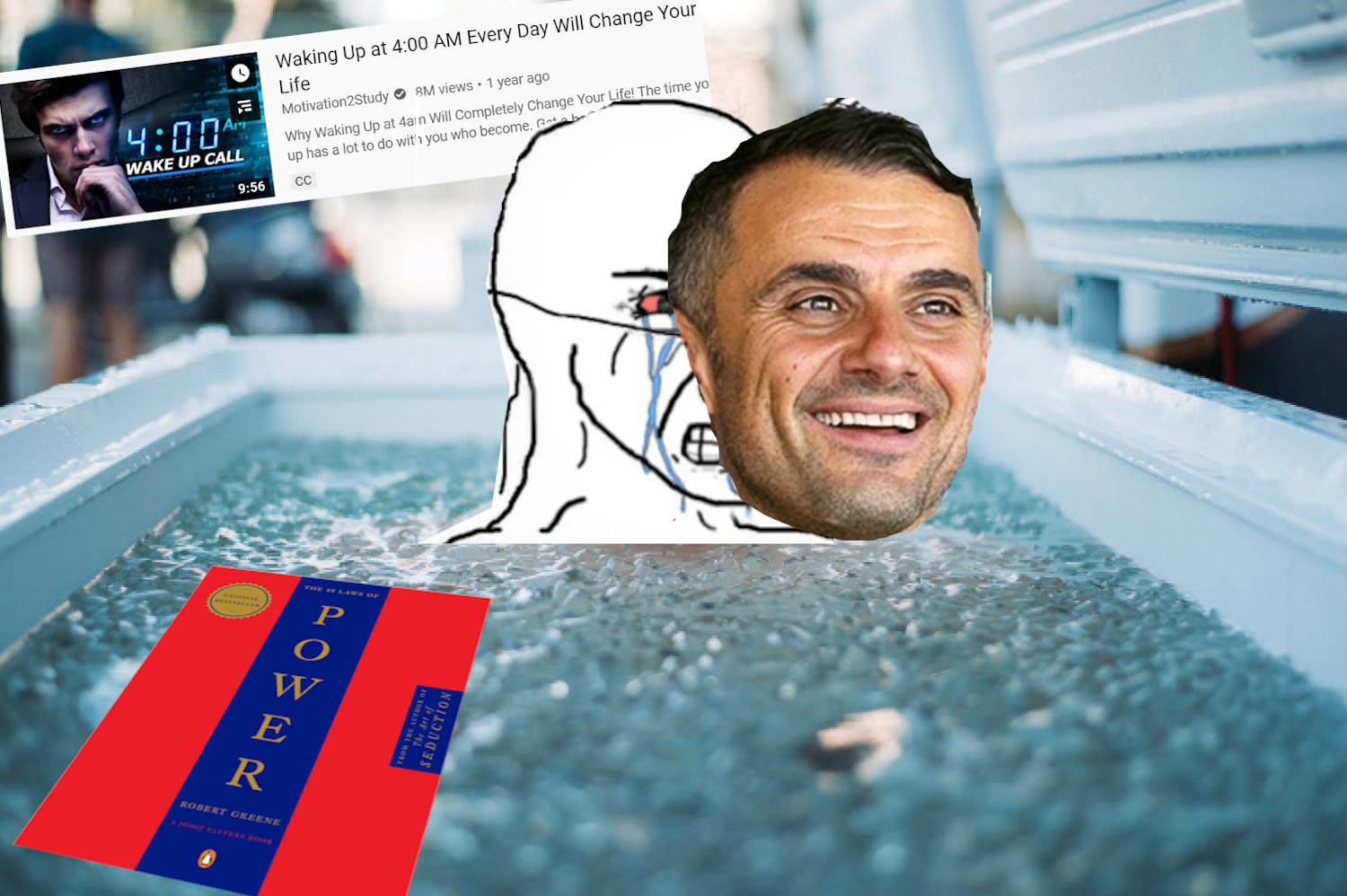 I hate going outside.
Outside is where the crabs lurk. Dumb and drunk off their own unjustified contentment. Stupidly satisfied with their crude and sloppy lives. To step out my workspace is to step into their claws.
But alas, I don't know how to cook, so I must go down to the restaurant downstairs to order some take-out.
I approach the front desk. It's unstaffed. Through my aviators, I see the daughter of the owner. She's in forest green overalls and a sheen, dollar store leprechaun hat.
She runs up to me with a sticky grin. She stops and pinches my arm through the sleeve of my black turtleneck.
"Happy St. Patricks Day!! You can't wear all black like that unless your underwear is green but I doubt it because I feel like you can tell who's wearing green underwear you know. You don't seem like you wear green underwear."
My attempted "ha" comes out more as a chokey exhalation because not a single cell in my body is at all amused. My cells are busy, busy imagining grabbing her by the pigtails and throwing her through the window. Happy St. Patrick's day bitch. Enjoy wasting your willpower stressing out about to wear every morning because you let society's pointless customs pressure you into dressing a certain way.
She senses the tension and leaves. Still no waiter.
I update my future hotel review in evernote, changing the three out of five to a dismal two out of five, adding a note about lack of commitment to paying customers.
Back in my room, I tell Alexa to put on Joe Rogan, and open my laptop while repeating my daily affirmations.
"I run a successful dropshipping teacher training. It generates twenty thousand dollars a month in profit. I have a hot Thai wife who loves to cook. My penis is ten inches in length, four in circumference."
I crack my fingers. Let's fucking go.
Before I break into flow state, my phone buzzes. FUCK, I forgot to turn off notifications. That's a nanogram of dopamine I'm never getting back. My whole morning routine derailed. And for what.
"Happy St. Patrick's Day Adam! I hope you're doing well. Love you. I know you're so busy but call me when you have time. Want to hear that voice."
I groan. More mental load. I should've gone off the grid, gotten a burner phone. I swipe the notification and add a task to my calendar: 'reply pleasantly to mom regarding birthday text'. I mark it at as low pri and link it to the master task for this week: 'catch up on messages'.
Back to work. I set up omnifocus to block every website besides Roam, Google Keep, Notion, Evernote, r/nofap, Pocket, Blinkist, Workflowy, Trello, TastyTrade, and Matt D'Avella's YouTube channel.
Finally I sink into my task list. A frenzy of re-prioritizing, triaging, streamlining, retrospecting.
First, I export my Google Keep notes to Gogole Drive for further organization and triaging. Boom, I check it on Trello.
Next, I make a networked map of my Evernote notes in Roam. I'm on a roll. I always make sure to invest in my notes apps. The benefits will compound soon enough.
I check the rest of my todo-list:
"Review dropship item brainstorm and choose top three candidates for final ranking" "Finish howtomakemoneynow.co.uk SEO crash course" "Twenty minute cold shower"
Overwhelming. But I'm up to it. "Twenty minute cold shower", let's go.
I clap my hands together like an over-involved youth soccer coach at the end of half time. The sound reaches no one but me, stand there aware of the thinning echoes.
I rip off my turtleneck, shuddering. I keep the thermostat at a strict fifty degrees. I haven't felt warmth in two weeks. Warmth begets complacency. We must leave the womb to begin our quest.
I pull off my boxers and flick the shower knob to the right. My shower curtain is an enormous portrait of Wim Hof shirtless in the snow. He looks at me with those brilliant eyes and I look at him. I take it with me everywhere.
As my big toe tests the icy stream, a shock runs up my inner thigh. My testicles retreat into my groin. My foot spasms as my animal instincts desperately try and wrench my foot back to safety. But I am no animal.
My vision begins to blur. I hear a voice in my head, "Don't do this to yourself. You can't take anymore." I begin to falter.
But then another voice. A manlier voice: "Just do it you fucking pussy."
I jump in. Everything goes black.
~~~
Lazy Sunday mornings... we yawn unashamed at eleven a.m.
I make a half-hearted attempt to get up.
"C'mon it's 11 a.m. we should get up."
"Mmmm just five more minutes."
She hugs me like a koala, body hot with life, and we sink back under the duvet, bodies pressed tight together, united against the frigid breeze through the open window.
Warmer and warmer in our enclave. A little hot actually. Almost suffocating.
~~~
Chest tight I gasp awake. I'm laying on the floor of the tub. Frigid water pummels my numb shoulders. David Goggins shouts off a waterproof speaker.
"GET OUT OF THE TUB YOU FRAGILE MOTHERFUCKER. IT'S BEEN THIRTY MINUTES."
My limbs feel prosthetic. My fingers have frozen together. I push myself over the edge of the tub, my whole arm working as one rigid unit, and pull myself out of the bathroom. Still drenched, I use my flippers to slide on my belly to my dresser and squeeze on my exoficios and turtleneck.
Another buzz. I scoop my phone towards me. Through teary distended eyes I can only make out:
"Miss you"
Miss you. My heart pumps harder.
My hands tremble too much for the fingerprint sensor, so I expand the notification with my nose. The full text:
"Miss you honey, call me when you get the chance. Hope you're enjoying Mendocino. Don't work too hard. Love, mom."
The warmth leaves. I hit my phone away with my arm like a pinball flipper.
I slowly process the text. My own mom telling me to not work too hard? Don't work too hard? DON'T WORK TOO HARD? Does she want me to fail? Crabs in a fucking barrel, man. The minute one of them realizes they're a failure they bring down everyone else. The anger turns in warmth and I find my strength.
2020 is the year of renewal. The year of new habits. New processes. New calendar apps.
I must drop everything holding me back. everything holding me back.
Anything holding me under the duvet at eleven a.m. even though they know I need to get up at six to start lifting. Anything begging me for five more minutes even though they know I have to write seven-hundred and fifty words before breakfast. Anything tracing their thumbs along the inside of my waistband even though they know all greatness is borne of suffering.
I claw my way back to my laptop and open Todoist.
First task: "Build Shopify websites. 3 sets of 5. 20 minute break in-between. Work the shipping muscle."
The words won't register. My eyes defocus. I'm staring past the screen now, my mouth ajar. Somethings in my chest and I exhale sharply.
My fingers move on their own, Ctrl-t Pornhub tab enter.
An alert pops up.
You have blocked this site! Do you want to take a break (Y/N)?
Do you want to take a break?
Jesus. I jump for my phone and ring the hotline. My focus app springs an alert.
"ADAM, YOU HAVE MADE A COMMITMENT TO DONATE $1000 TO THE DEMOCRATIC SOCIALISTS OF AMERICA EVERY TIME YOU USE YOUR PHONE DURING THE DEEP WORK HOURS OF 7 A.M. TO 11 P.M. ARE YOU SURE YOU WISH TO PROCEED?"
I click yes. It stings, but this is an emergency. The free riders need the money anyway.
The call connects.
"Hello, brother."
His voice unnaturally deep, like he's forcing his chin into his sternum for better posture.
"I-i-i think I'm going insane. I almost just relapsed, but thankfully I have the site blocked. I have a TWO-HUNDRED day streak man. TWO HUNDRED. and I almost ruined it all. For what? For what?"
"Deep breaths brother. You did great. You're going to make it. Just take some deep breaths--"
"I can't. I can't breathe. I'm so fucking cold."
"Don't worry. The body just needs some time to adjust to the cold showers. The benefits really take about four - six weeks--"
"I'm so FUCKING cold I'm suffocating. Could I even jerk off if I wanted to? My arms are dead, my fingers are frozen together, I haven't felt life in my dick in six months. What the FUCK is this? What am I doing? I spent ten hours yesterday researching blenders, brother. TEN HOURS RESEARCHING CHINESE BLENDER WHOLESALERS. FOR WHAT? IS THIS THE REST OF MY LIFE? UPSELLING CHEAP FOREIGN BLENDERS ON SHOPIFY PAGES AND CLAMPING MY SEMEN DUCT SHUT? IS THIS VICTORY?"
"Brother, please. You know not what you say. Remember how far you've come. Remember how late you used to wake up. How much time you'd waste under the duvet. Remember how shallow your work was. Always texting."
"THAT'S THE ONLY THING THAT--"
"BROTHER, please stay calm. I'm calling in for backup."
"THE ONLY THING THAT GIVES ME WARMTH IS HER BREATH ON MY NECK."
"Uh, come again?"
"THE ONLY THING THAT GIVES ME WARMTH IS HER BREATH ON MY NECK"
"Uh um just keep taking deep breaths. Wait, brother, what's that sound? Are you chewing? Brother! It's outside the eight hour intermittent fasting window! Don't sin like this!"
I wheeze and gasp as I shovel chocolate into my mouth. As I swallow the cocktail of tears, mucus, and saliva, the blood returns to my fingers. My shoulders relax, my chest opens. The ego dissolves, ambition fades.
The alert still looms over my browser. Do you want to take a break?
I see my dripping face set against the crude black and yellow webpage. I look surprisingly calm. Leveled, calculated.
I slowly rise to close the blinds and unzip my pants.
The screams from the phone pass through my ears.
"BROTHER, STOP. DON'T DO THIS. THINK OF THE REGRET. THINK OF THE SHAME. BROTHER, PLEASE."
I squirt Lubiderm into my dry palms. Everything fades to black.